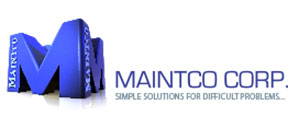 Maintco, established in 1992 is a proud provider of general contracting services to the retain, convenience, fast food, and commercial industries.  A full-service general contractor, Maintco reduces stress and daily phone calls for facility management teams.
As their business grew over the years, Daily Computing Solutions was by their side ensuring that their technology grew and kept up with their needs.
By being Maintco's outsourced IT department, we were able to successfully plan and execute a full infrastructure upgrade that will allow Maintco to grow even further all while being friendly with their budget and ensuring no down time.
As Maintco grew over the years, new servers were added to their infrastructure to provide services for line of business applications, file sharing and storage, accounting, and inventory/logistics management.
As costs for maintaining and running these servers grew, we approached Maintco with a solution to virtualize their entire infrastructure. We planned with Maintco to ensure that new hardware purchases would be budget friendly and would save on monthly expenses.
By utilizing the VMWare ESXi hypervisor, we were able to bring six physical servers into one, with improved performance and reduced monthly expenses.
COVID-19 Update
As the COVID-19 pandemic swept the world, Maintco, like most businesses, decided to implement a work from home policy to ensure all of their employees were healthy and safe.
By being Maintco's outsourced IT department we were able to ensure that the work from home transition for Maintco would be painless.
By utilizing the single hypervisor server that Maintco has on premise, we were able to offer all Maintco employees the ability to access all of their business resources securely from the comfort of their homes.
"As a company that collects as much data as possible and relies completely on our internal network to service all of our customers 24/7, Daily Computing Solutions is solely responsible for maintaining our ability to respond as efficiently as possible. They take care of our hardware, phones, and software to act as a one-stop shop for all of our technological needs for over 20 years."
-Lori Normile, Executive Assistant, Maintco Corp
Daily Computing Solutions, Inc. was established in 1998 in Glendale, California.  Daily Computing Solutions provides managed IT support services to small businesses in the greater Los Angeles area.
Daily Computing Solutions provides the following services to Maintco
24x7 On-Site and Off-Site IT Support Services
Implementation of full remote employee access & ability to work from home
Implementation of VMware virtualized servers
Implementation of Business Disaster Recovery and Redundancy
Implementation of remote and On-Site business communication & VoIP Phone Systems
Full Google Suite e-mail system management
Web Design & Development
Virtual CIO/CTO Services